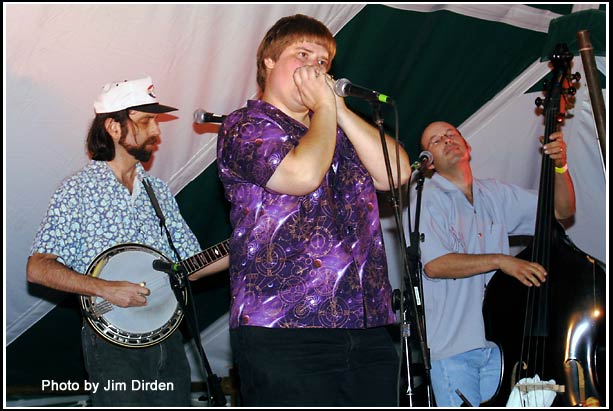 The harmonica workshop at Old Settler's Music Festival 2001. The band backing me is the High Stakes Rollers [Eddie Collins -banjo; Clayton Elliot -bass; Wes Green -mandolin/fiddle (beyond left edge of picture)]. [Photo by Jim Dirden.]




A close-up of me being my own wierd self. [Photo by Jim Dirden.]




Playing a show with the Two High String Band -- Old Settler's Music Festival 2000. [Photo by Jim Dirden.]
Playing bass at the annual Buchanan family fish fry. (In the forground is Buck Buchanan, lead singer and dobro player for the Manchaca AllStars.) [Photo by Dr. Mark E. B. Johnson (a Manchaca AllStar banjo player who is temporarily adrift in a sea of Arizona sand).]

Group shot of the Ledbetters (bluegrass band) from San Antonio. Left to right, top to bottom: Larry Miller (lightning fiddle), Chris Teague (nephew) (lead guitar), Kathy Drake ("Ely Mae Ledbetter") (guitar), Jeff Long ("Junior") (lightning mandolin), (Uncle) Dave Reiff (bass), me ("Cousin" Cara), Spencer Drake ("Jethro Ledbetter") (banjo, guitar). This is a family band with a real twist and sense of humor. [CTBA Bluegrass Festival, Round Rock, 2001] [photo by Trish Taylor]

Overall instrument workshop at the CTBA bluegrass festival in Round Rock (2001). Left to right: Rod Moag (the Pickin' and Singin' Professor), Chris Teague (guitar), and me. Heaven knows what prank had been pulled at that time to make me laugh like that. [photo by Trish Taylor]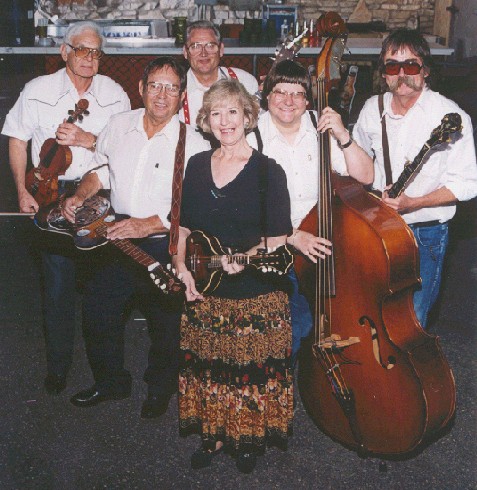 Manchaca Allstars (2000) (the house band for the Manchaca Volunteer Fire Department Kitchen, aka. the Manchaca Firehall). We have been playing regularly at the Firehall since 1983 and are still the favorite band there, though other bands get their chance at the audiences every month, as well. In back: George Smith (fiddle), Ben Buchanan (country and bluegrass vocalist extraordinaire). In the middle: Buck Buchanan (bluegrass vocalist), me, Dave Seeman. In front: Gloria Buchanan. [photo by Trish Taylor]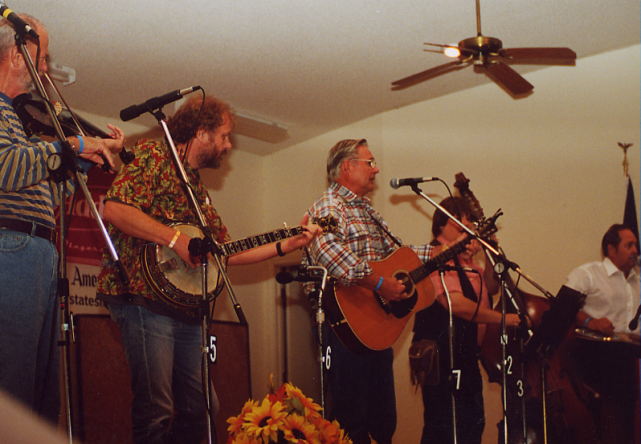 Manchaca Allstars at the CTBA bluegrass festival in Round Rock (2001). Rolf Sieker is another regular banjo player for the group. Rolf is the Texas State Banjo Champion for 2001. [photo by Trish Taylor]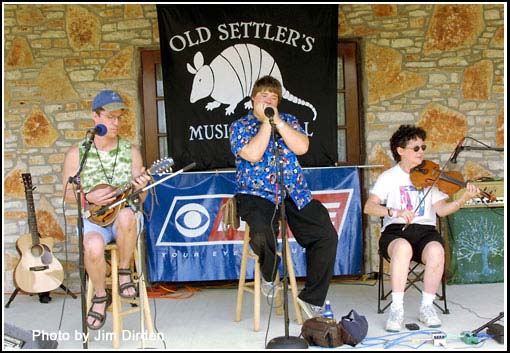 Bluegrass Harmonica workshop on the Armadillo Stage at the 2002 Old Settler's Music Festival, Austin, Tx. I am one of a few folks who do things the way I do, and this little workshop has been helpful in providing me an opportunity to demonstrate in detail the style and techniques that got me the "Texas International Harmonica Championship" title in 1999. My helpers were Kevin Willet (guitar, banjo, and mandolin) and Mary Hattersley (Sweet Mary) (fiddle). They excellently demonstrated the other instruments in bluegrass so that I might show how the harmonica might play and apply the same tunes and "licks". [photo by Jim Dirden, staff photographer for the festival]



Answering questions after the harmonica workshop at the 2002 Old Settler's Music Festival, Austin, Tx. Apparently the only way to shut my mouth is to put a harmonica in it! [photo by Jim Dirden, staff photographer for the festival]
Sitting in with the blues band "Larry" during the 2002 Old Settler's Music Festival, Austin, Tx. Here Larry's harmonica player and I are taking turns at some pretty adventurous breaks. These guys were great fun, and real gutsy. They have become a mainstay at the festival's Bluebonnet Stage. [photo by Trish Taylor]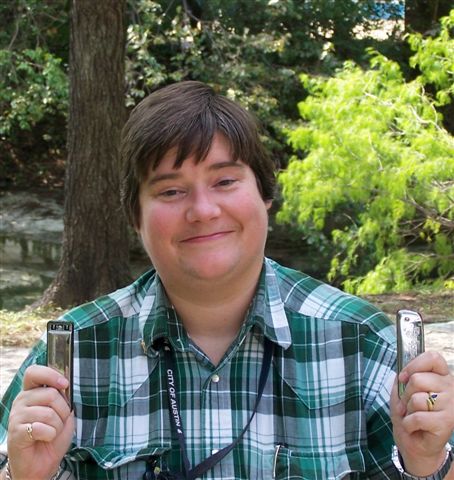 Posing and being goofy for a newsletter. [photo by Nancy Shiring]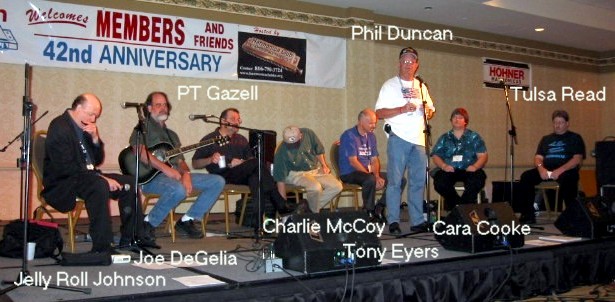 The championship line-up of the Americana Harmonica Seminar at the 2005 (harmonica) convention in Kansas City, Missouri. Over 90 harmonica players crammed into the room to see what each of us had to say about playing harmonica in our varying styles. From left to right: Jelly Roll Johnson, P. T. Gazell, Charlie McCoy, Tony Eyers (Australia), Phil Duncan, me, and Tulsa Read.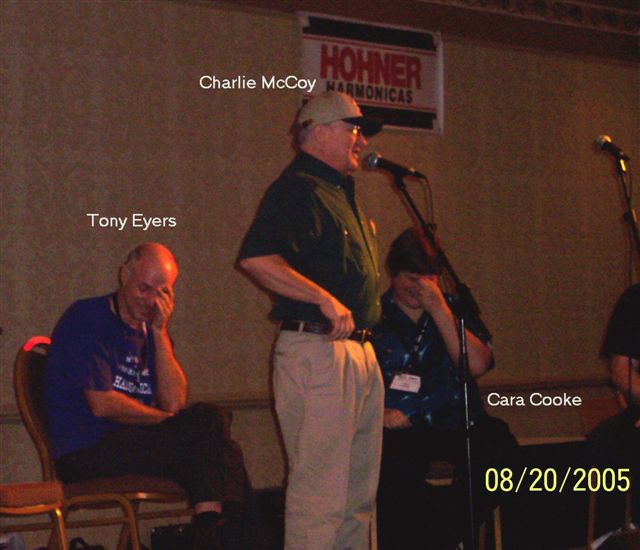 Charlie McCoy kept us in stitches as he told about how he came about to do things his way.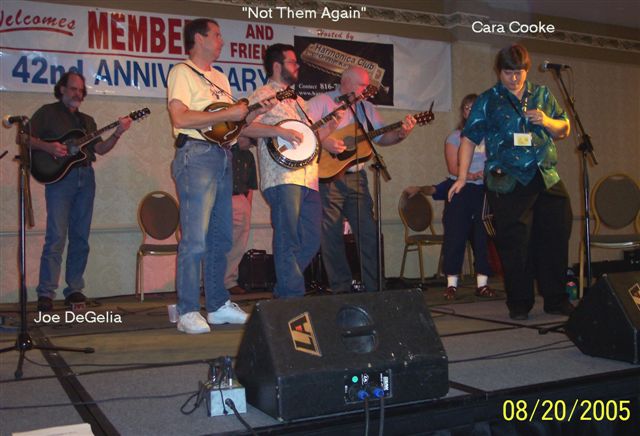 Tulsa Read brought along his bluegrass band, "Not Them Again", to back him and me up on some bluegrass tunes. Bluegrass is really an ensemble music and is better demonstrated when the whole band can be there. Thanks, for the help, fellows!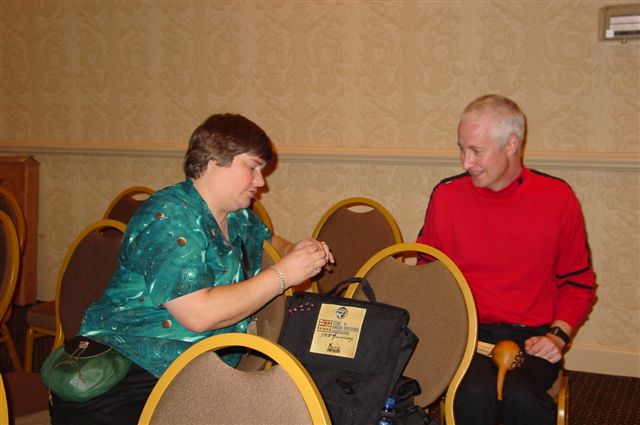 Pat Missin and me discussing harmonicas and their Chinese relative, the hulusheng -- after he had played it for us all in the evening's show.